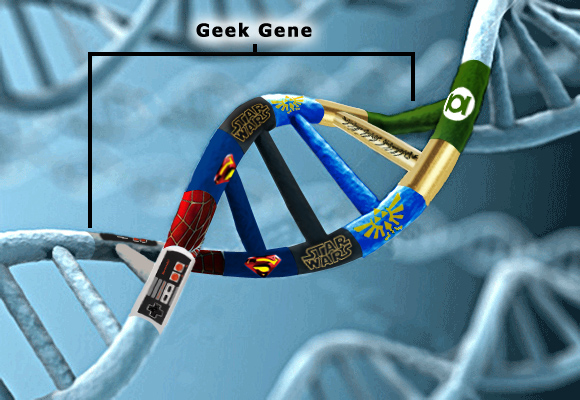 Geek Gene
Scientists have finally identified the geek gene. That all important part of our DNA that makes us love things like Star Wars, Comic Books, Sci-Fi and Video Games. It explains why full grown men are willing to dress up in red tights and pretend they have Super Speed.
Scientist theorize that this gene is also responsible for most social awkwardness and also inhibits men and the occasional woman from talking to the opposite sex.
Geek Chromosome
Often large chains of the geek gene are woven together to form an actual geek chromosome, creating super geeks. Geeks so geeky, they rarely see the light of day other than the virtual sun in World Of Warcraft. So Geeky, they are willing to dress up as storm troopers and wait in line for days on end to be first in line for a re-release of a movie they can already quote line for line.
Geek Girls
Although predominantly found in males, it is occasionally manifest in women and is quite rare and highly valued.
Do I have the Geek Gene?
There is a simple test to determine whether or not you have the geek gene. Simply identify as many of the segments of the geek gene as you can. If you can identify all 7, then you are a geek.
If you have to use Google, then you are definitely not a geek.